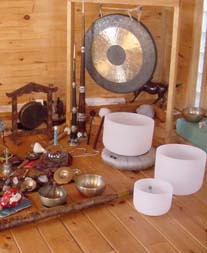 MORNING LIGHT BOOKSTORE & WELLNESS CENTER
Presents
INNER PEACE
A Sounds for the Soul Workshop
Saturday, 3-29-14, 1:00 to 2:30 p.m.
Join Deb Jennings as she uses sound healing instruments to help you tune into your own infinite source of inner peace. You will experience sounds that are resonant and harmonious. Sounds for the Soul can open the heart, expand consciousness, release tension and stress, deepen states of meditation, and balance and harmonize! Deb will guide you in your work with intention, carried on the waves of sound, to take yourself out of fear, stress, and other limiting beliefs, behaviors and patterns. Sound healing will reawaken your divine within, and assist you to connect with your source of inner peace in the present moment. You will journey through sacred sound and vibration to your highest vision of yourself and have visceral experiences of wholeness. Peace is an "inside job." Come to Morning Light for your journey within to inner peace.  
$30 fee for workshop. Private Sessions: Deb will be available for private healing sessions. Only 4 sessions available. Call store for scheduling.
Morning Light Bookstore & Wellness Center, 151 73rd St., Windsor Heights, IA. Please pre-register with Lenore at 515-255-9256 or at morninglight27@aol.com. http://www.morninglightstore.com/