Deb Jennings
Deb Jennings has studied and played music since age five. She plays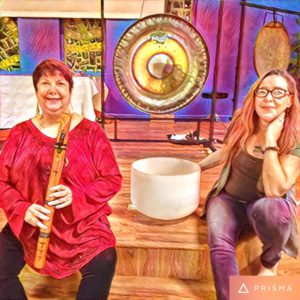 piano, organ, keyboards, Native American flutes, percussion instruments, crystal bowls, Tibetan metal bowls and bells, temple gongs, tuning forks, didgeridoo and the pentatonic metallophone. She has studied Sound Healing with Jonathon Goldman and Buddhist monks in Tibet, China and India. She has studied toning and chanting with several different teachers, and in several traditions (Buddhist, Hindu, Sufi, Native American, Christian). She leads drum circles and Explore Sound Healing groups in the community, teaches workshops on crystal and Tibetan metal bowls, and offers private and group sound healing sessions, plays for Yoga in the Park, church services, celebration of life services, as well as leading meditations using sacred sounds.
Deb has a Bachelor of Science in Nursing (Creighton University, cum laude) and is trained in all three levels of Usui Reiki, as a Master Practitioner.
Hollie McClay-Johnson
Hollie McClay-Johnson began exploring meditation while working with the Omaha Magic Theater bringing body-breath-mind-movement & music on tour throughout the United States and Canada. She chaired an online discussion group working to create peaceful interactions with believers of all faiths on a parenting website. Life recently brought her to Des Moines and she has been studying sound healing with her friend and teacher Deb Jennings, parterning in Sounds for the Soul meditations. She follows an eclectic mix of mentors, philosophies and practices with a thirst for learning how to facilitate harmony for ourselves and our planet.
Hollie says, "Meditation is important to me because I resonate with the idea we must foster a collective awakening to our interconnectedness. In these times of instant information and communication, it seems we need mindfulness more than ever. I aspire to follow Thich Nhat Hanh's "everything is meditation" while remembering "that's why we call it a practice" in my less than mindful moments.
As a meditation leader my intention is to promote a space for participants to reconnect with their higher selves with unconditional love and gratitude. To encourage and enhance each personal journey with the vibrations of gongs, bowls, drums and our own voices, especially the healing sound of laughter.
Meditation helped me reframe the persistent inner question of "Why?" into asking "How?" How can this life experience help me to grow as a person, how can I use it to create compassion, how can I transform suffering to wisdom? Meditation is a constant opportunity to find oneness in a fast paced life filled with the sense of separation, a space for connection with the Now (this present moment) and All that Is."
Justin Appel
Justin Appel is a keyboard player that has been playing music for approximately 20 years. He first wanted to become a musician when he heard his grandfather playing the harmonica when he was a child. His grandmother also played organ at the Presbyterian Church. He realized that music had a genuine effect on a large group of people. Music affects people no matter what walk of life they are from. Being totally blind, Justin experienced a lot of alienation when he was a child. He figured out that the perfect remedy was music. He found that he had a gift… Communicating with the language of music, he could convey emotions such as happiness, joy, or sadness. He used music to create a connection with his family and his peers.
Music has been a life long friend for Justin. In his adult life, Justin has bonded with other people that share his interest in making music. He has been honored to be able to share the stage with many of his friends. He is passionate about having fun and sharing the gift of music with as many people as possible. Justin plays with the Jeff Banks band, the Heath Alan band, and the Shanon Curfman Band. He has also played crystal singing bowls for many years. In the past year, he has added his singing bowl experience and playing to Sounds for the Soul's Meditations and Gong Baths.